Founded in 1989, Cape Fear Botanical Garden is a natural beauty situated on an impressive 80 acres nestled between the Cape Fear River and Cross Creek just two miles from downtown Fayetteville. Cape Fear Botanical Garden is a 501(c)3 non-profit that connects everyone to nature. We have Education programs for children and adults, Private Venue locations and places where you sit in silence and reflect on your day.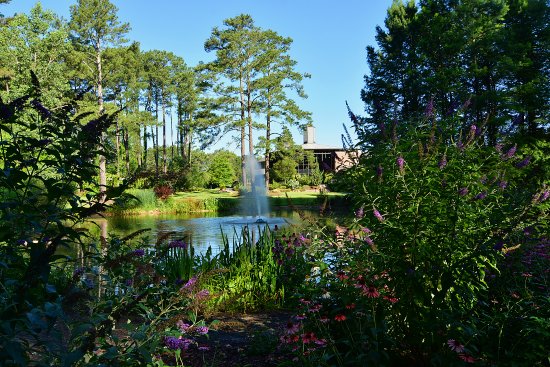 The Cape Fear Botanical Garden provides tours and educational programs for all ages and abilities. The Garden is a NC Environmental Education Center and an approved Cumberland County field trip destination. Using the living laboratory that exists at the Garden, we offer guided tours, camps, adult workshops, hands-on projects, research opportunities, public special events and more. We can accommodate small or large groups, formal or informal, and will work with you to cater our programs to fit your needs.
All field trips are matched to NC State Essential Science Standards and include hands-on activities, guided tours, and lunch at the Garden. Students will meet live reptiles, find hidden camouflage insects, plant sunflower seeds, sample soil cores, and more! Cumberland County public school teachers can also take advantage of our FREE Classroom Programs offered on a first-come, first-serve basis. A trained NC Environmental Educator will bring hands-on activities, amazing science demonstrations, and even live animals to your classroom! All tours and field trips must be scheduled in advance.
Adults can enjoy guided garden tours, day trips, and workshops. Try birding for the first time, create a container garden, or tour our historical 19th century farmhouse. Adult tours or golf cart reservations must be made at least 48 hours in advance due to staffing and planning requirements. Contact 910-486-0221 x 43 to schedule a tour or day trip today.